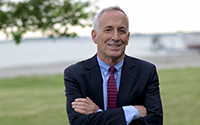 Laurence Kotlikoff Professor of Economics, Boston University and President of Economic Security Planning, Inc.
My weekly Ask Larry column ran for almost four years at PBS NewsHours' site. We've now moved Ask Larry to the best place to both answer your general questions and let you calculate your particular optimal benefit collection strategy. I pledge to answer as many questions as possible in the columns below. Please share Ask Larry on social media and consider purchasing our Maximize My Social Security program, which will show you precisely how to get everything you paid for. All my best, Larry

PS, As we are being flooded with questions, I'm also going to have Jerry Lutz, a former Technical Expert at Social Security, as well as my colleagues in the company (Mike O'Connor, our chief SS software engineer, John O'Connor, our head of software support, and Alex Kotlikoff (my son) and Isaac Yoder, who work on all aspects of product execution and development) help me answer some of your questions. My goal is to give everyone an answer to their questions in relatively short order. As you can read from the questions I have answered, I often am advising people to use our software to figure out precisely what to do. I know the rules, but only the software can figure out cases that may involve finding the best strategy among tens of thousands to millions of alternative strategies. If you have software support questions please log into the site and enter a support ticket.