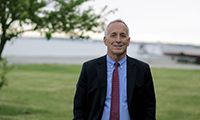 Laurence Kotlikoff Professor of Economics, Boston University and President of Economic Security Planning, Inc.
Welcome to Maximize My Social Security -- a simple, but comprehensive tool designed to help you (whether you are married, divorced, widowed, or single) get the highest benefits from Social Security. We also have a version for Financial Advisors that handles multiple clients.
Our video on the front page shows the tool's power to help you take Uncle Sam's best Social Security deal. This document details what's under our hood. For a general overview of what you can do with this tool, see Basics: How our product works.
I am a professor of economics and I've spent a good part of my academic career studying personal financial behavior. In the course of these studies, I realized two things. First, economics' approach to financial planning is very different from the conventional approach: it generates quite different and much more sensible advice. Second, economists have an obligation to use their tools and science to help people make proper life-cycle financial decisions.
I've spent over a decade with colleagues in my company developing economics-based personal financial planning software. Thousands of individuals and a growing number of Financial Advisors, with no economics background, have found our integrated, comprehensive program easy to use and understand.
Maximize My Social Security is our most recent product.
When it comes to personal finance, economics and our software care about one thing—your living standard. All questions in personal finance boil down to your living standard. Your decision about when and how to take Social Security can affect your living standard throughout your retirement.
Social Security offers retirement, spousal, widow, widower, child, mother and father, and divorcee benefits. It has highly complex benefit formulas, which include wage indexation of past covered earnings, benefit-specific reduction formulas for collecting benefits early, an earnings test, deeming provisions that limit when married and divorced people can take particular benefits, delayed retirement credits, credits for getting hit by the earnings test, indexation of benefits to inflation, a family benefit maximum, a "file and suspend" option permitting you to collect free spousal benefits while you defer your retirement benefit, the option to start your benefits early, suspend them, and restart them later, Windfall Elimination and Government Pension Offset provisions that limit retirement and spousal benefits available to workers with non-covered employment histories, and the list goes on.
Here's why my colleagues and I developed Maximize My Social Security. Deciding, on your own, which Social Security benefits to take and in which month to take them is incredibly difficult. Most households face millions of options. You can easily lose tens of thousands of dollars making the wrong choices.
My colleagues and I realize that people are taking our suggestions very seriously in thinking about what financial decisions to make. Consequently, we are obsessed with getting all the rules exactly right. In so doing, we've consulted extensively with Social Security's actuaries. They have been tremendously helpful, but have not audited our code and bear no responsibility for any errors in our calculations.
We've also adopted what we believe to be the correct methodology for determining the present value (the value in the present) of your total lifetime benefits. In particular, we don't ask you to estimate your lifespan as other Social Security tools do (often under the heading "break even" analysis). We feel it is safer to use a default option of a lifespan of 100 years to give you the most conservative estimate of your maximum benefits. You have the ability to choose another lifespan date, but we want you to start with the most conservative assumptions.
We believe we have Social Security's rules right and are making the right calculations when it comes to estimating your lifetime benefits. We also have tested, where possible, our tool against Social Security's much more limited on-line benefit calculators.
In addition, my company, Economic Security Planning, Inc., markets ESPlannerPLUS (for households) and ESPlannerPRO (for Financial Advisors) at www.esplanner.com. These programs can help you find additional ways to safely raise your living standard. Please check out the videos and case studies posted under Learn More at www.esplanner.com.
Our software tools come with no additional sales pitch, nor do we take advertising. Our goal is simply to help you make the best personal financial decisions.
Disclaimer
The above said, what our tool offers is suggestions, not recommendations or advice. Our tool is an educational tool. It may contain bugs of which we are unaware. And neither I nor any of my colleagues are personal Financial Advisors. Consequently, this tool does not constitute personal financial advice. In the end, you need to make your own decisions, consult with your personal Financial Advisor, and discuss your plans in advance with your local Social Security office. But be careful. The local offices often provide incorrect, partial, or misleading advice.